Brief
pubGENIUS provides digital publishers and content creators that are looking to maximize their ad revenue potential with an end-to-end website monetization solution to earn more money from every impression by delivering best-in-class full-stack approach to digital ad revenue strategy.
pubGENIUS cooperate with Agencies on Record (AOR) to help sell their direct inventory. Besides they work with a vast network of media buyers from various agencies as well as with advertiser direct.
Duration
4 months (ongoing)
The challenge
We have been integrated into pubGenius engineering team as an embedded resource.
pubGenius was building out an OpenRTB platform for running advertising auctions at a large scale and needed someone skilled in full-stack development to facilitate the front- and backend builds.
The primary business challenge for pubGenius was to create fully-tolerant, secure, GDPR-compliant process visualization and management OpenRTB platform that would help companies to integrate their ad quality technology.
The main technical challenge was to implement a highly customizable process mapping and visualization web tool with auto-scalable and fully-tolerant back-end architecture on AWS.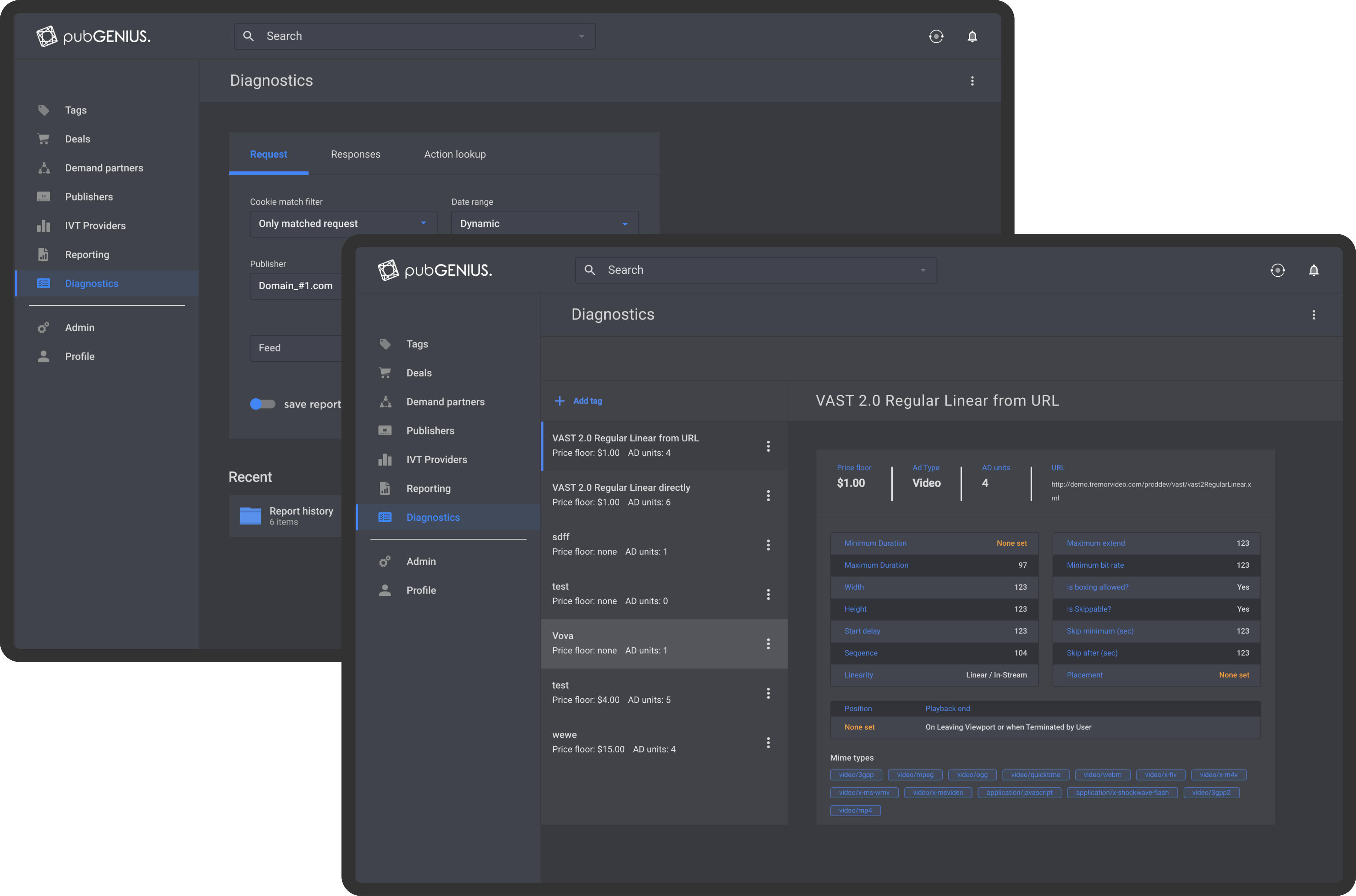 We implemented a highly-customizable platform with a robust diversity of metrics for companies who want both to place the personalized ad on their website and to have their ads to be placed on other websites to attract the most targeted audience.
As a client put an emphasis on high performance and personilized approach we implemented both light and dark modes to choose from. Dark mode apps can prolong the battery life and make us a little healthier.
Secure
The ad quality technology seamlessly integrates with an existing ad environment to ensure brand safety.
Diverse units support
pubGenius is flexible to ads varieties and supports display/video across desktop & mobile web, oRTB Versions, and much more.
Streamline Reporting
Real-time insights into your revenue with transparency, customized views and much more. Our reporting aggregation tools take the headache out of multiple billing screens.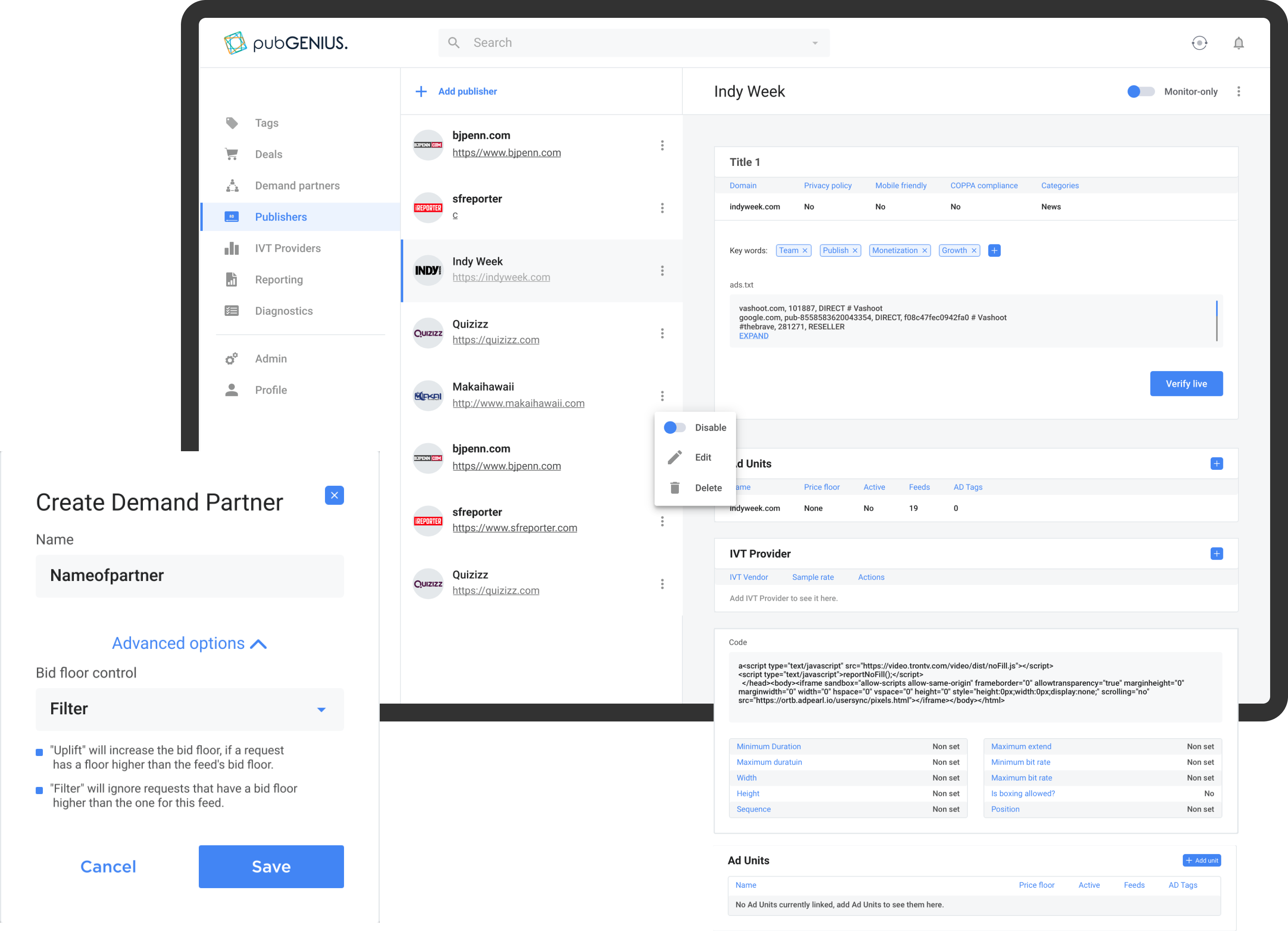 Well-versed in the latest industry policies and best practices to keep you current in a rapidly-changing industry.
Fully Compiant
pubGenius is fully compliant with ads.txt, and scan regularly for invalid traffic and malicious ads, such as mobile redirects, to ensure that bad actors don't profit.
Easily Customized
Choose all metrics, dates, and filters you need to get the accurate parameters for your personal revenue statistics
Built For Transparency
pubGenius provides their publisher partners with full access to ALL demand partners and provides reports based on demand and direct advertiser performance.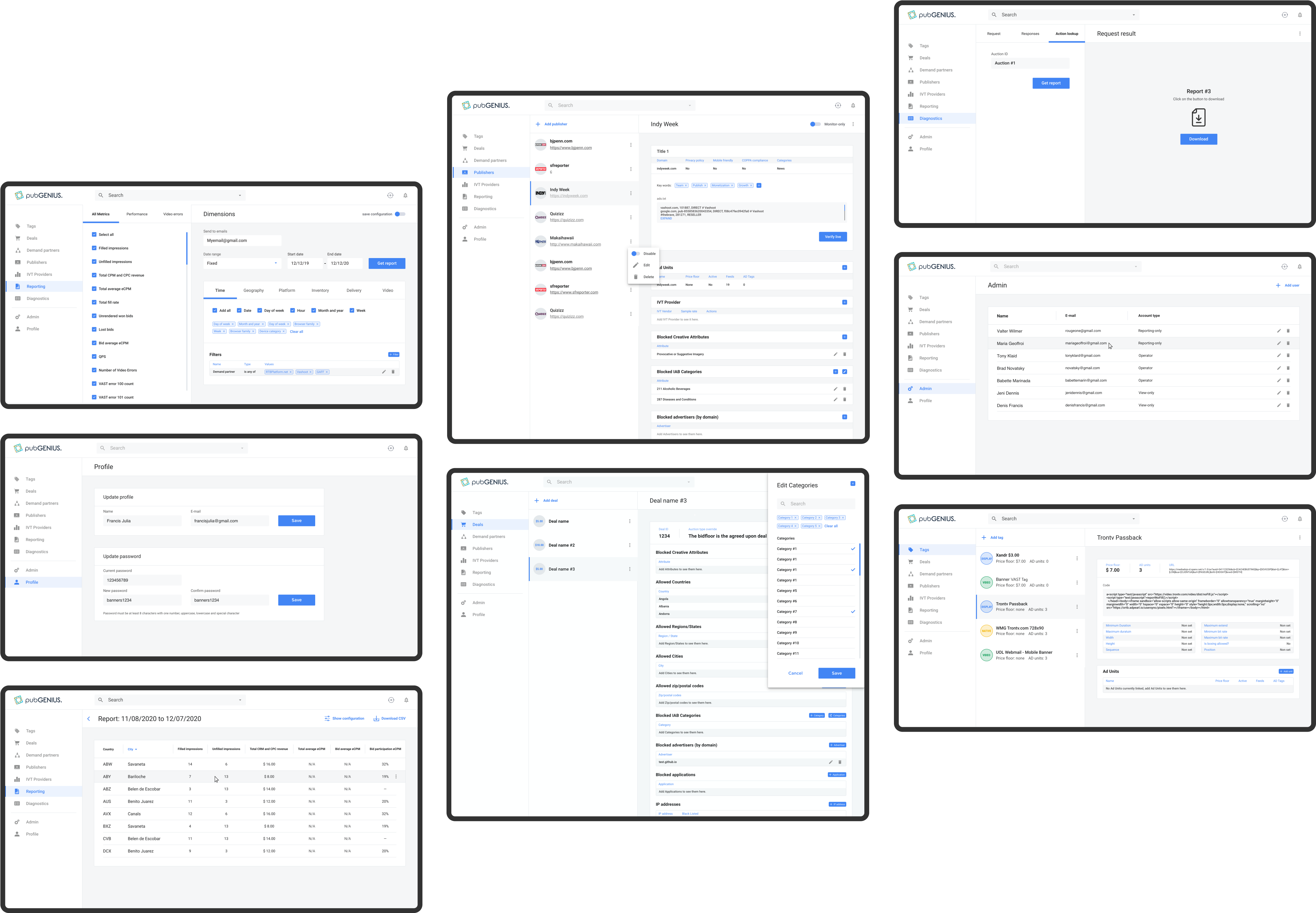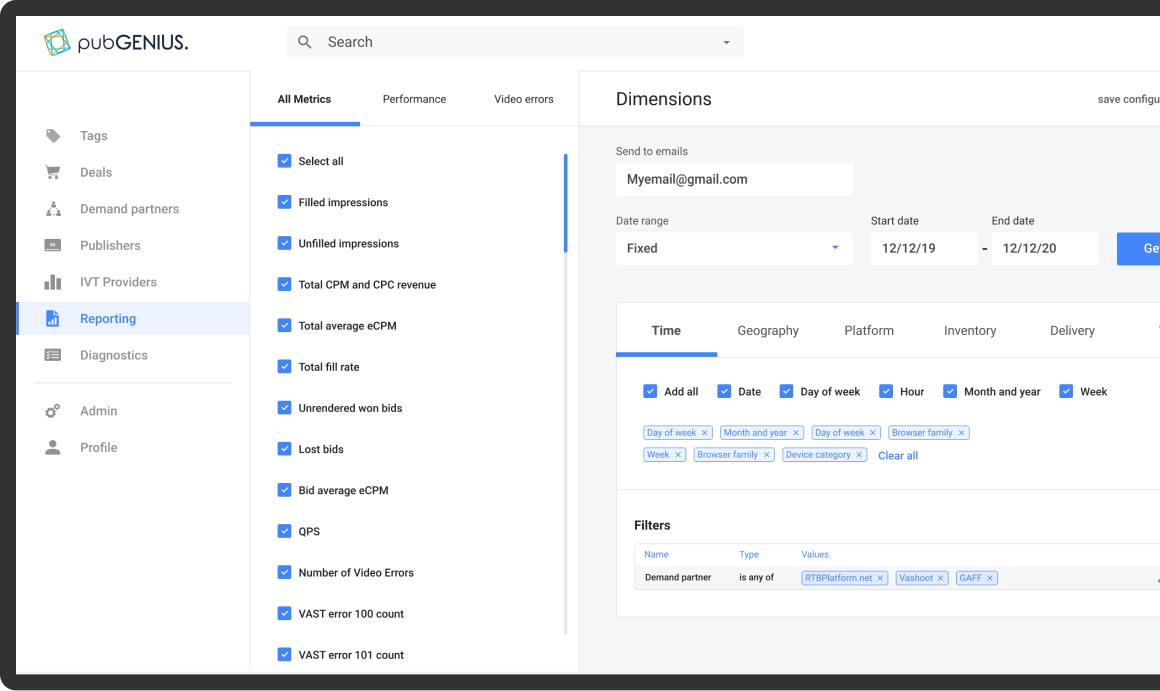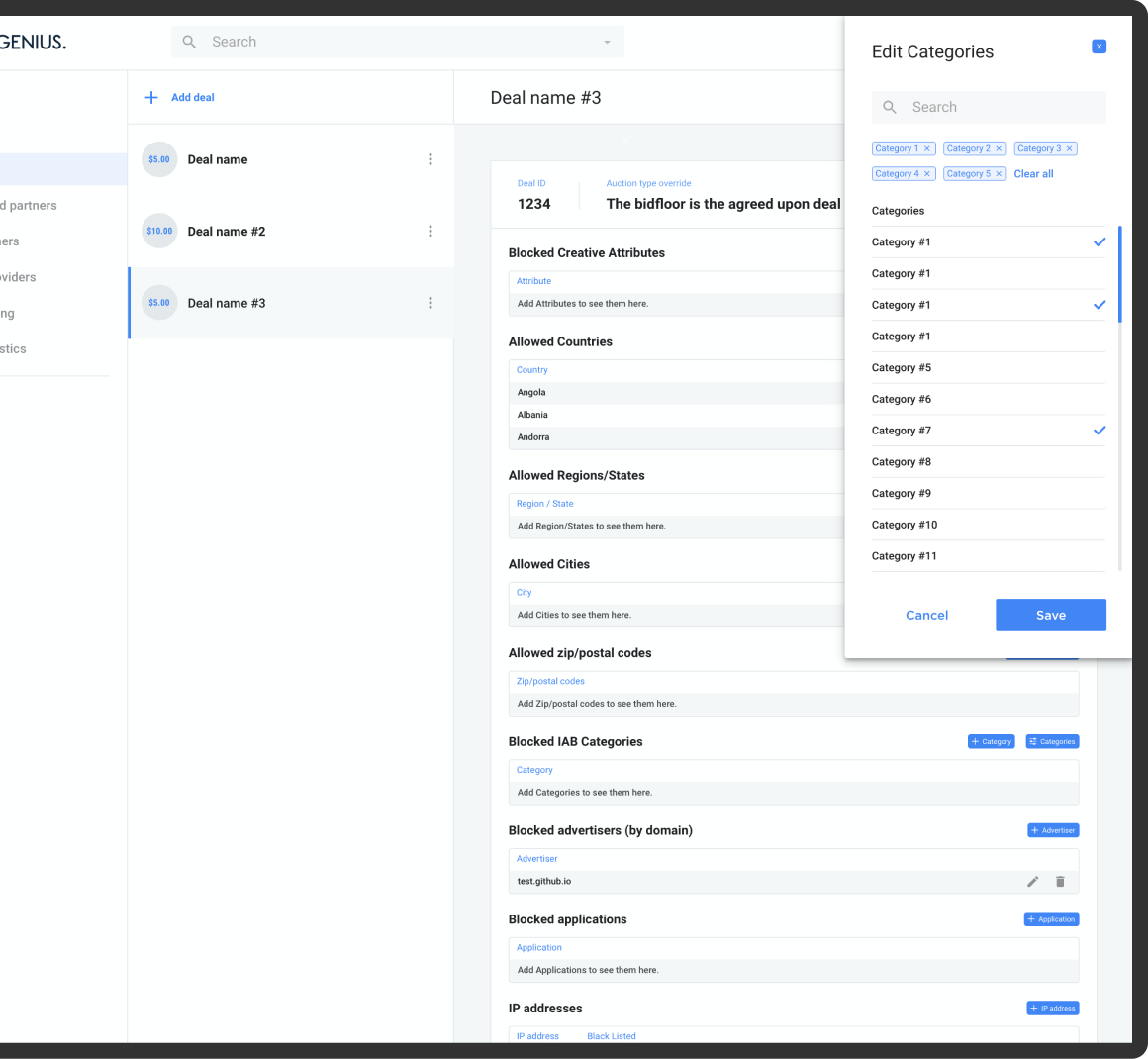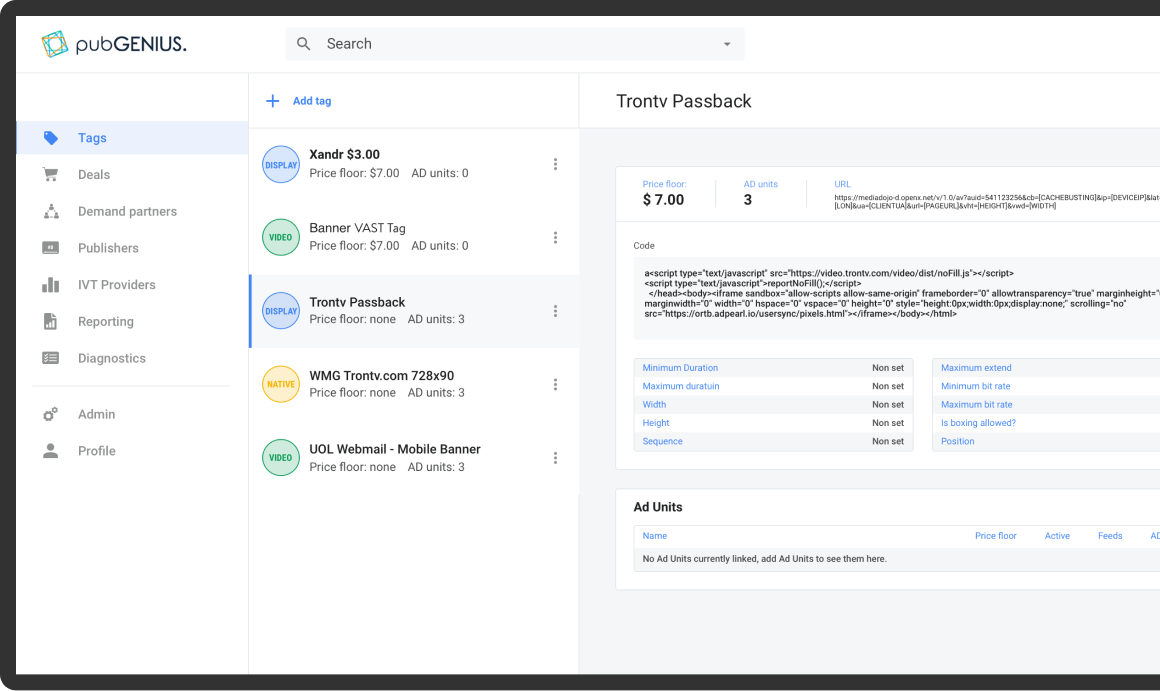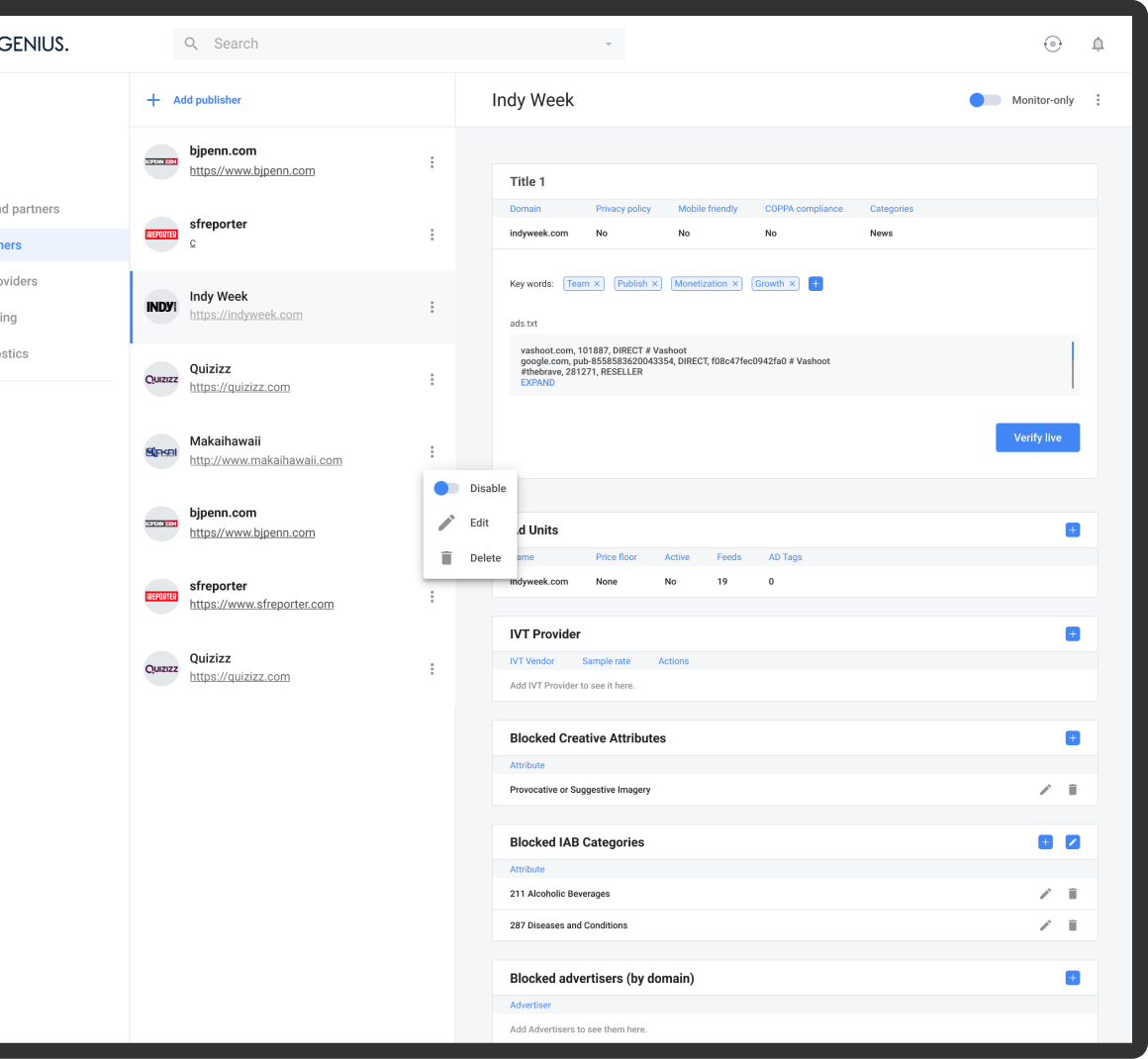 They never complain if you ask them to get a project done
Devima Solutions managed to develop a higher quality product that exceeded the client's expectations. The team always had the client and its company in their best interest. They were able to deliver pixel-perfect designs and provide great communication throughout the project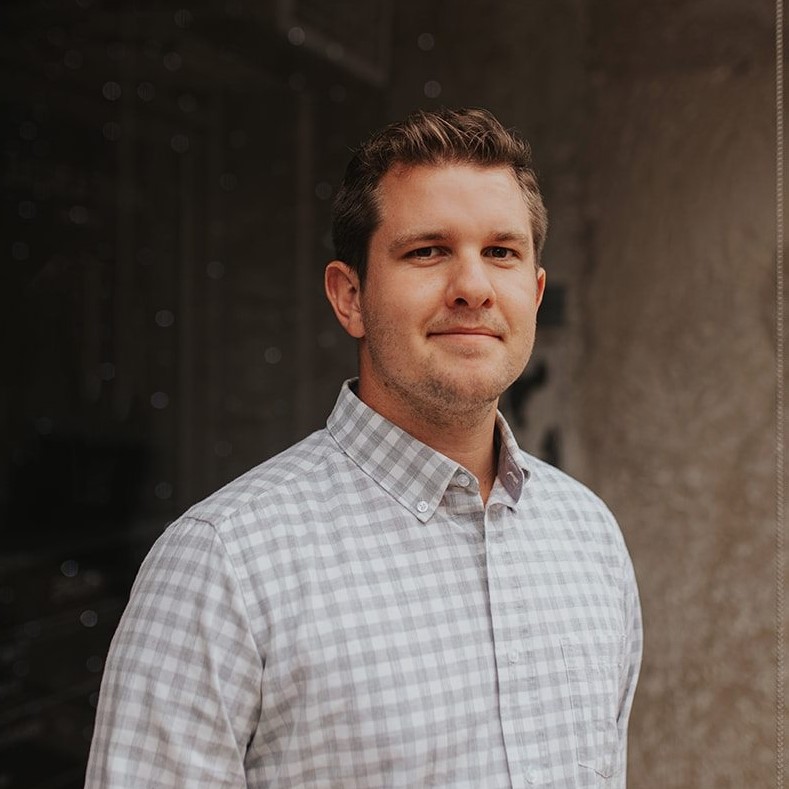 Cordell Cox
Digital Marketing Coordinatior at Versured
Review comes from